Changing the value game
While business goals and strategies evolve, our services support you wherever you are in your business cycle — whether you're looking at a transaction to propel you forward, focusing on developing and implementing the right controls to mitigate risk, or advancing your company's finance and technology infrastructure to match your aspirations.

The Grant Thornton advisory professionals are progressive thinkers who create, protect and transform value. Our consultants stand out not only because they have the right set of certifications or skills but because they 'think like an astronaut'. They view the world differently, without even going to space to learn that.
Our creative and ambitious team is full of enlightening ideas fitting this dynamic, rapid digitizing environment. We put these ideas into practice taking your specific needs into account.
To learn more, check out our newest Governance, Risk & Compliance brochure! ->
View our GRC Brochure
Download PDF [5208 kb]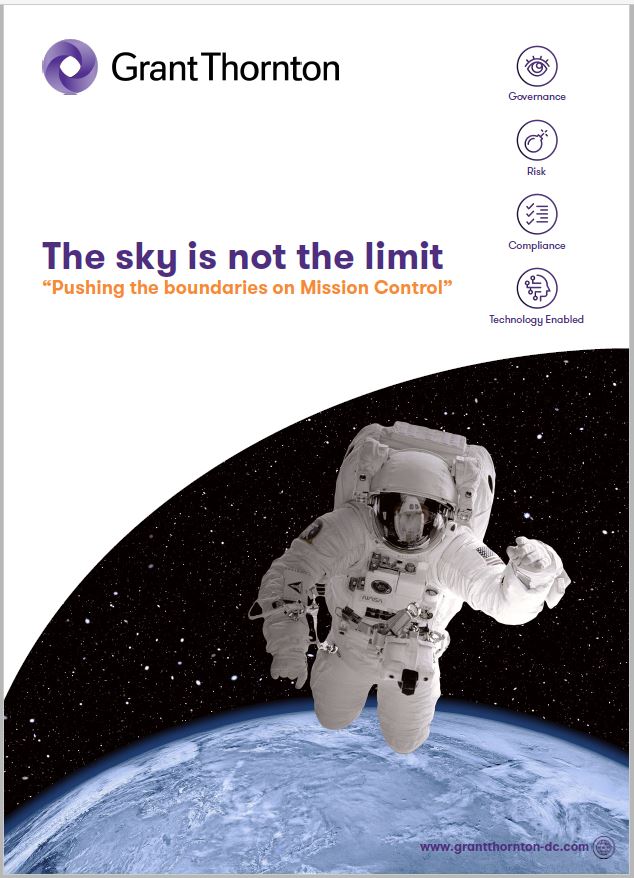 Value of technology enabled GRC
Typically, organizations and their leaders don't view Governance, Risk and Compliance (GRC) as a value driver for their business. Oftentimes, it is considered as a burden or not adding value to the business. We believe the term GRC (even though very broad) is too narrow. That's why we added the T of Technology.

So: Governance, Technology, Risk and Compliance.

All within the environment your organization operates in; the value chain. GTRC should therefore be integrated in any company's strategy and business processes.
Why Governance, Risk & Compliance?
Governance - Smart processes and tailor made frameworks aimed to direct and control the actions and affairs of management and others. Good governance can offer several important benefits to organizations, including: Better organizational strategies and plans, improved operational and process effectiveness/efficiency, improved project management and delivery, more prudent regulatory compliance, financial and risk management, improved member and stakeholder/employee engagement and communication flow and increased agility to which an organization can deliver on its purpose and goals.
Risk - Risks are becoming even more pervasive, multifaceted and dynamic. This partly explains why risk management has become so fragmented. In trying to address myriad risks, many companies purchase tools and implement solutions without proper coordination and governance. In addition, focusing mainly on loss prevention can cause an organization to miss opportunities to drive performance by understanding which risks to take and how to mitigate them. In order for the overall organization to gain the full benefits from implementing the risk process, it is important that risk management should become fully integrated at both operational and strategic levels.
Compliance - Technological innovation like Artificial Intelligence (AI), Machine Learning (ML), Robotic Process Automation (RPA) and advanced data analytics drive developments in different areas of business, one of them being regulatory compliance. Seemingly a marriage of opposites though, since technological gadgets are on any organization's wish list, but regulatory compliance has been or still is seen as a burden to business. Perspectives are shifting towards the awareness that regulatory compliance is your organization's business and we're witnessing a marriage of soulmates, regulatory compliance and technology: RegTech. RegTech, or Regulatory Technology, is the use of technology to facilitate the delivery of regulatory requirements. RegTech uses new technologies to help organizations meet the challenges of regulatory monitoring, reporting, compliance and risk management. An important prerequisite for the effective introduction of RegTech as an enabler for strong business returns, a better bottom-line and ultimately more value for shareholders is the digital quotient of your organization.
Data protection (privacy) - Nowadays, the collection, storage and processing of personal data has become an important part of the business operations of almost all companies. In a "Big Data" era, decisions by companies are often made based on available data. The term "Big Data" has indeed become a true symbol of the big data revolution we now live in. When we look back at the many privacy related incidents that have recently occurred and the increasing digitization of organizations, it is becoming increasingly important to be well prepared. This allows organizations to reduce the risk of something undesirable happening with the data of customers, relations and people, such as data breaches, unintentional misuse of personal data and especially the consequences that come with it, such as high fines, claims and reputational damage.
"Pushing the boundaries on Mission Control"
Assisting your organization in reaching its destination
| | |
| --- | --- |
| | Our ambitious team is committed to support companies of all sizes in managing their risks proactively, and serving them with innovative, integrated and user friendly GRC software. We have proven that our software will bring more efficiencies in business operations and give the right insights for management to remain in control and achieve their planned future business outcomes in the current volatile environment. |